associates 2014
THESPIS
9th international monodrama festival 2014, kiel
---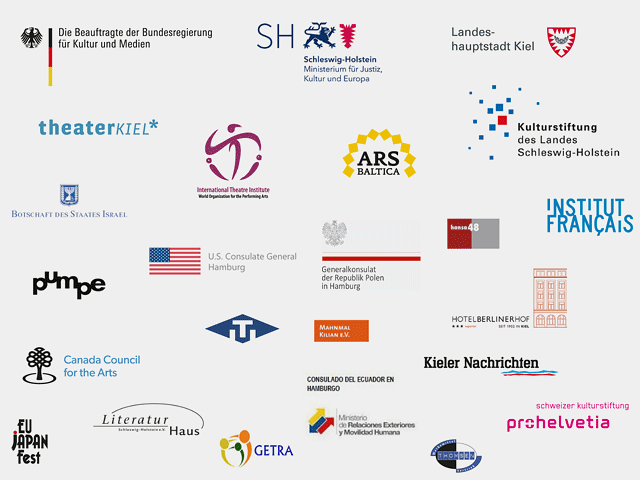 ---
PROMOTED AND SUPPORTED BY:
» The Federal Government Commissary for Culture and the Media
» Schleswig-Holstein Ministry for Justice, Culture and European Affairs
» The City of Kiel
» Cultural Foundation of the State Schleswig-Holstein
---
IN COOPERATION WITH AND KIND SUPPORT FROM:
Theater Kiel  |  Internationales Theaterinstitut (ITI) Zentrum Bundesrepublik Deutschland  |  Ars Baltica  |  Botschaft des Staates Israel  |  U.S. Consulate General Hamburg  |  Generalkonsulat der Republik Polen  |  Consulado del Ecuador en Hamburgo  |  Die Pumpe e.V.  |  Kulturzentrum Hansa48  |  Institut Français, Kiel  |  Verein Mahnmal Kilian e.V. / Flandernbunker  |  Hotel Berliner Hof  |  Canada Council for the Arts  |  Kieler Nachrichten  | KulturForum in der Stadtgalerie  |  Literaturhaus Schleswig-Holstein  |   PRO HELVETIA  |   GETRA  |   EU – Japan Fest
---
THANKS FOR COOPERATION TO:
Mohamed Al Afkham, MonoDrama Festival FIMF, Fujairah , Arabische Emirate  |  Steve Karier, MonoDrama Festival, FUNDAMENTAL, Luxemburg  |  Maria Tanana, Monodrama Festival , Vilnius/Visaginas, Litauen  |  Larysa Kadyrova, Monodrama Festival MARIA, Kiew, Ukraine  |  Nina Mazur, Monoperformance Festival VIDLUNYA, Kiew, Ukraine  |  Alexandras  Rubinovas, Monodrama Festival MONOBALTIJA, Kaunas, Litauen  |  Wieslaw Geras, Monodrama Festival, WROSTJA, Wroclaw/Torun, Polen  |  Dedi Baron und Yacov Agmon, TheatroNetto Festival, Tel Aviv, Israel  |  Marianna Mkhitaryan,  Monodrama Festival ARMMONO, Yerevan,  Armenien  |  Omar Sangare,  festival UNITED SOLO, New York, USA  |  Tomek Borkowy, Hill Street SOLO Theater, Edinburgh Fringe Festival, Edinburgh, GB  |  Mentor Zymberaj,  Monodrama Festival MonoAKT, Kosovo  |  Michael Müller, TheterDiscounter, Berlin, Deutschland
---
WARM THANKS
to all, who supported the 9th international monodrama festival with donations and involvement, especially to WILLY ROGALLA, Berlin!