associates
THESPIS
12th international monodrama festival 2021, kiel
---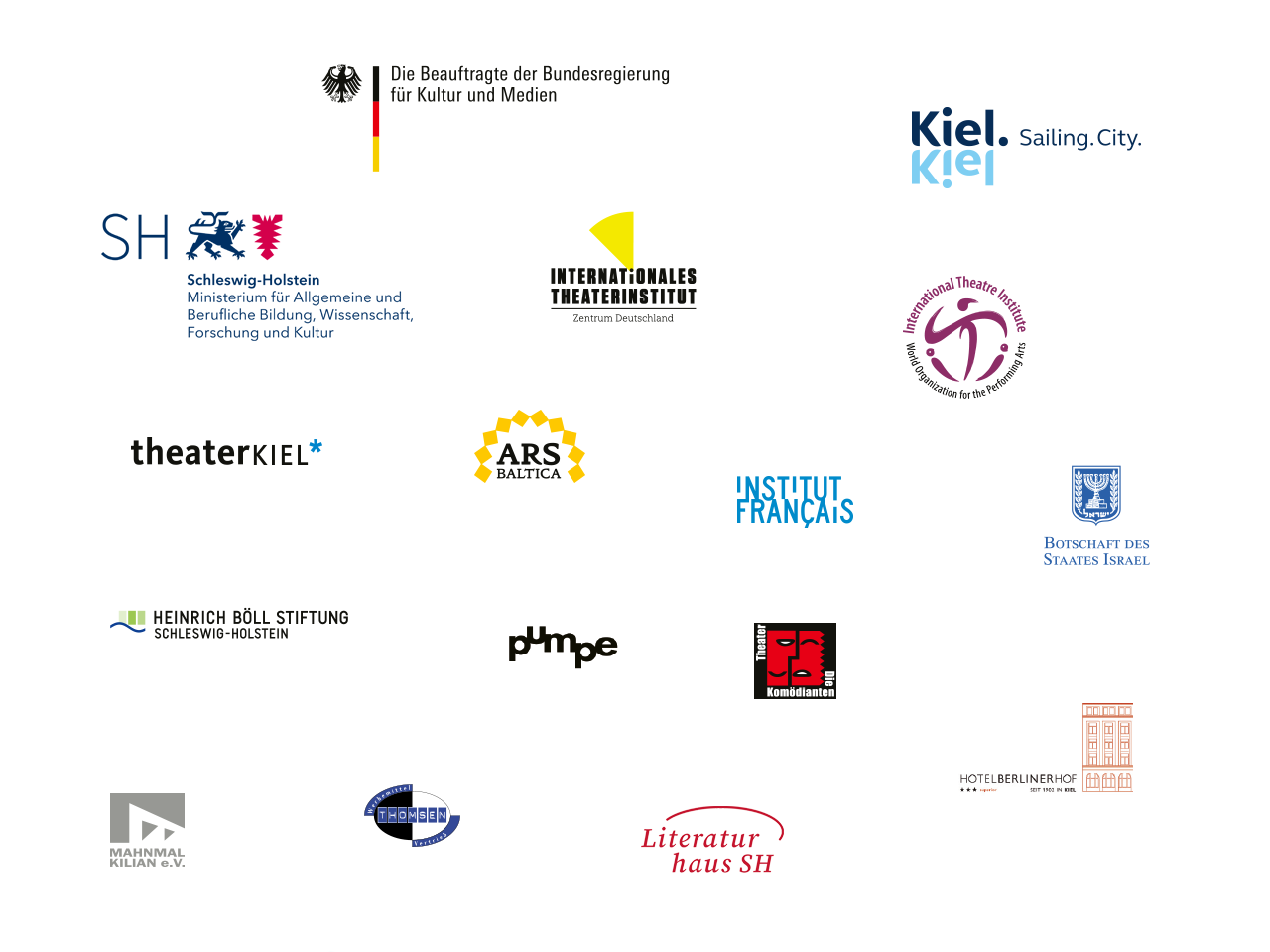 ---
PROMOTED AND SUPPORTED BY:
» The Federal Government Commissary for Culture and the Media
» Schleswig-Holstein Ministry for Justice, Culture and European Affairs
» The City of Kiel
---
IN COOPERATION WITH AND KIND SUPPORT FROM:
Theater Kiel | International Theater Institut – Center Germany | Ars Baltica | Embassy of the State of Israel | HeinrichBöll Foundation | Die Pumpe e.V. | KulturForum | Institut Français, Kiel | Theater Komödianten | Hotel Berliner Hof | Schleswig-Holstein Literaturhaus | Memorial Kilian e.V. | Werbemittelvertrieb Thomsen
---
THANKS FOR COOPERATION TO:
Mohamed Al Afkham, MonoDrama Festival FIMF, Fujairah , Arabische Emirate  |  Steve Karier, MonoDrama Festival, FUNDAMENTAL, Luxemburg  |  Maria Tanana, Monodrama Festival , Vilnius/Visaginas, Litauen  |  Larysa Kadyrova, Monodrama Festival MARIA, Kiew, Ukraine  |  Nina Mazur, Monoperformance Festival VIDLUNYA, Kiew, Ukraine  |  Alexandras  Rubinovas, Monodrama Festival MONOBALTIJA, Kaunas, Litauen  |  Wieslaw Geras, Monodrama Festival, WROSTJA, Wroclaw/Torun, Polen  |  Dedi Baron und Yacov Agmon, TheatroNetto Festival, Tel Aviv, Israel  |  Marianna Mkhitaryan,  Monodrama Festival ARMMONO, Yerevan,  Armenien  |  Omar Sangare,  festival UNITED SOLO, New York, USA  |  Tomek Borkowy, Hill Street SOLO Theater, Edinburgh Fringe Festival, Edinburgh, GB  |  Mentor Zymberaj,  Monodrama Festival MonoAKT, Kosovo  |  Michael Müller, Theater Discounter, Berlin, Deutschland  |  DDK Weglin, Lublin, Polen
---
WARM THANKS
We are grateful to all, who support the 12th edition of THESPIS with their engagement and commitment.
A very special thank you to our sponsor, Willy Rogalla, Berlin!